Are you thinking of creating an online store? It's a great way to earn extra money or even make a living with your own business. However, the beginning can be intimidating, so the most important part is knowing where to start. Well, as always, we have some tips for you!
The best news is that you don't need to invest a lot or have a technical knowledge to create your own online store. Just learn how to work with our store builder and the result will be incredibly fast and efficient.
Before you start building your website, consider the following steps:
What will you sell?
To stand out in a market full of thousands of products requires a little effort, right? Do a search for the most popular products on Google Trends to find out what's on demand today or read our tips. A complete market analysis will increase your chances of success.
Choose an attractive design
No matter what you're selling, the store has to be done right. The first impression is really important and the appearance must always be taken seriously. Don't forget to insert good quality photos of your products to avoid user frustration or any refunds.
Visual representation is very important when selling online and can be a decisive factor for your potential customer, both in choosing the product and competing with competitors.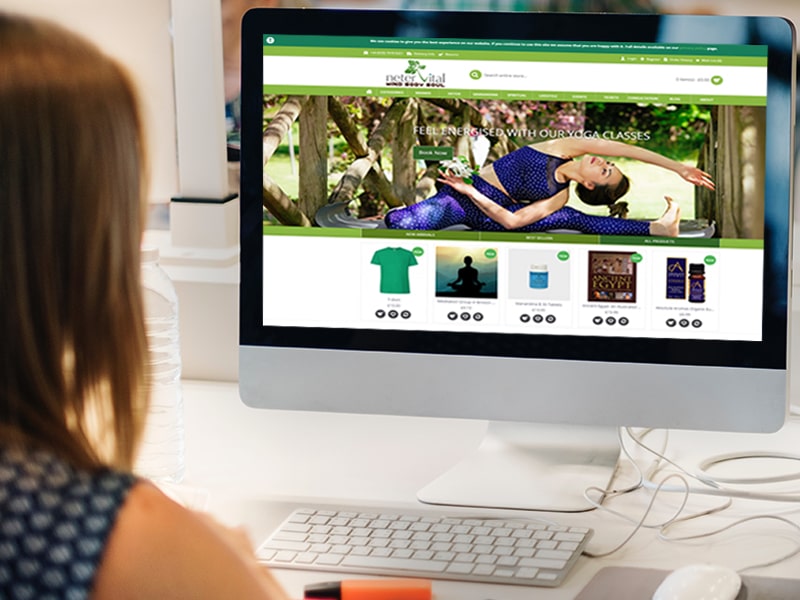 Take care of your customers
Offer a first class service that accompanies your customer before, during and after the purchase in case of any doubts. Email or chat support makes a big difference and can convince those interested to become customers. You can also do a satisfaction survey among your customers by means of a questionnaire with right questions.
Trust in the first place
The availability of contact data on the store's website is part of mutual trust. Make the most of it and use it to tell your success story and inform your address, phone, e-mail or links to your social networks.
Flexibility is also one of the keywords. A satisfied customer is also the one who can return the product if by chance it does not meet his expectations. Set your own Terms and Conditions for such cases on the page designed for this purpose, and along with the rules formulated on the Privacy Policy page considerably increase the chances of your business being considered highly professional.
The protection of customers' personal data has been a major topic and therefore you are ahead of your competition, being transparent from the outset regarding the sending of newsletters, data processing, cookies, etc.
Turn marketing into your friend
The first step is to connect the store with all your social networks, where you can even answer visitors' questions through chat and form closer and more personal relationships.
Email is also a good tool to reach customers. Through an express consent you can collect the email addresses and create a strong customer base, really interested in your news. This is super easy with Webnode – the checkout in each store has a built-in checkbox where each buyer indicates whether they want to receive the newsletters or not. Easier is impossible.
Blog is the special ingredient
Blogs are great for generating traffic where you need it and are part of linkbuilding strategy. Use keywords in your posts and gradually you will gain a better position in search results. Don't let the blog stand still it needs to be updated with new and original content quite often to encourage visits and, most importantly, keep the audience.
Offer different payment and delivery methods
Create professional accounts to accept credit and debit card payments. Your customers will not need to create specific accounts to pay for their orders and can be sure that their money is safe. You can also offer other methods such as bank transfer or cash on delivery.
Also add various forms of delivery so your customers have more options. Use the tracking functionality, very useful so that customers can track the status of the shipment in real time.
Have you thought about offering free shipping? The additional shipping costs can make potential customers give up the purchase. The word "Free" is almost magical. If you take a chance, you can expect a larger initial investment, but the positive results will soon be noticed.
Keep an eye on the competition
There are probably a lot of stores selling merchandise like yours. To be successful in the long run, you must be aware of what is happening in the market and know your competitors. A deep knowledge of them can encourage you to make the changes necessary to maintain the loyalty of your customers and to attract new ones.
Stock burning and promotion increases sales
The discount is always seductive and can greatly increase visits and consequent sales in your store. You can label products on promotion and display the difference between the original and current price. Nobody will resist!
Improve SEO and visibility in search engines
Integration with the Google Search Console and the optimization tools in our stores' own editor will give the e-shop an initial boost and improve its position in search results. The more at the top, the more visitors to your store.